Cities & Covid-19 | Hamburg, Germany by Nora Mariella Küttel
Students share their impressions of urban living during a pandemic | a TAU City Center special project
Public Space, (No)Body & Expression
As for many others, my life has thoroughly changed in the past couple of weeks –
or is it months already?
Instead of splitting my weeks between Hamburg and Münster, instead of spending hours
in trains, instead of meeting friends, instead of playing soccer, instead of hugging my family,
I work, teach, exercise, and worry in and from my one-bedroom apartment.
But despite these and other personal changes and challenges[1], I observe changes
in public urban spaces, too. 
​​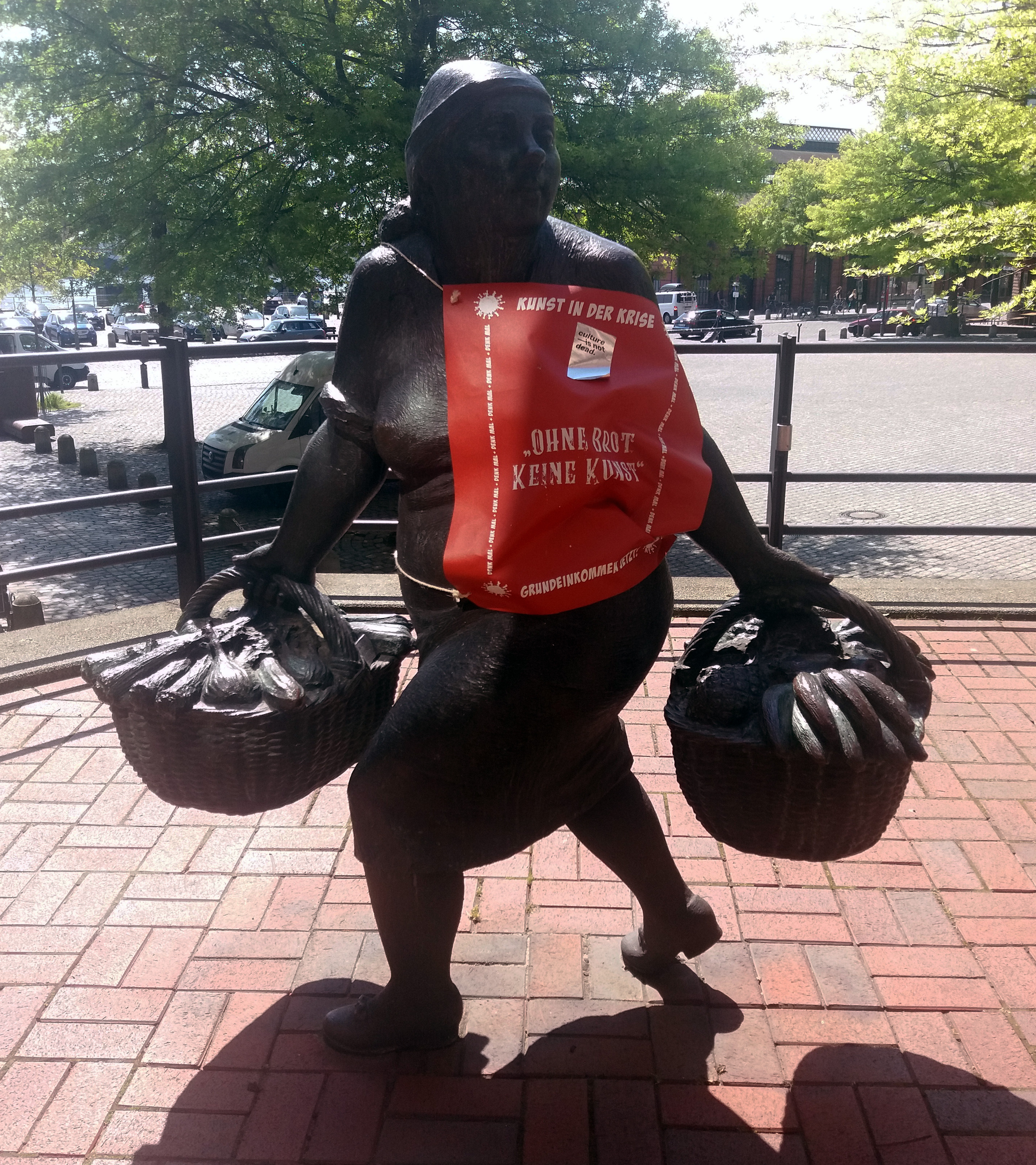 Although Hamburg is less crowded now due to the absence of tourists, almost all sidewalks I've strolled are too narrow to keep the recommended distance of at least 1.5 meters. 
With more people choosing the bike over public transport (which is great) and a bicycle infrastructure that was conceived with anything but the bike in mind, walking and cycling in Hamburg does feel like being on an obstacle course now more than ever. 
Figure 1: Sculpture of a vendor dressed in a poster saying 'Art in crisis' & 'No art without bread' by a basic income-initiative
​
On a positive note, however, the current situation could teach us on how urban space could be divided and used in the future.
​A district in Berlin, for example, reacted to the change in mobility habits and created pop-up bike lanes on former parking lanes. And during the closure of playgrounds, the kids in my neighborhood discovered spaces for play that before were probably best described as terrain vague. 
But what struck me the most was to see how political articulation and demonstration changed its space.
As the freedom to demonstrate (Demonstrationsfreiheit) has become severely restricted due to infection prevention, people turn to walls, windows, and sidewalks even more to express their opinions and demands.
Figure 2: Banners on balconies 
demanding to accept asylum seekers
​from Greece 
Thus, messages may remain in the public sphere longer than they might with the ephemeral manner of demonstrations and marches which often only last for a couple of hours.
However, how strong and effective can protest in public spaces be if one crucial element[2][3] is missing: the human body[4]?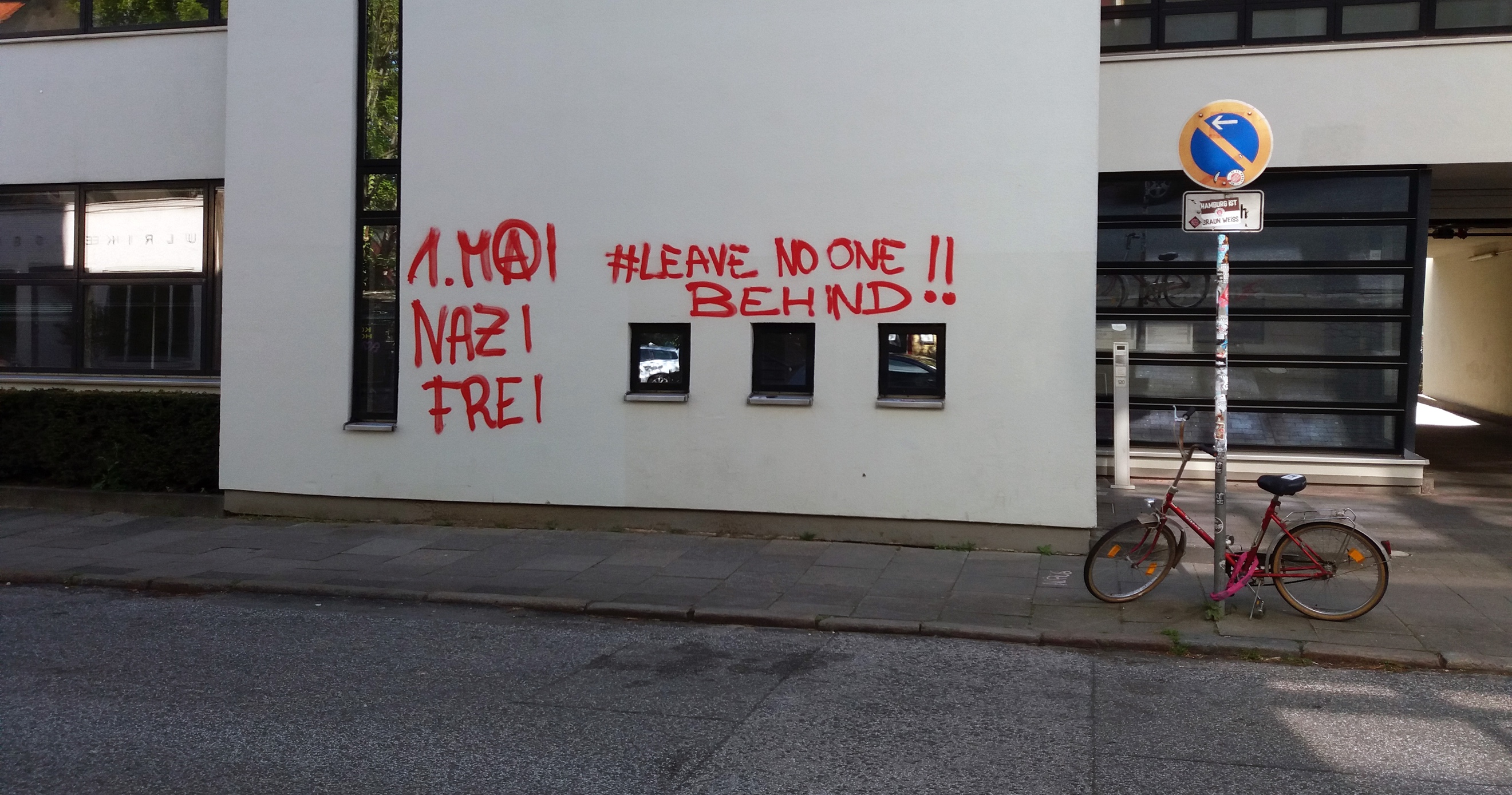 Figure 3: Writing on a wall saying 'First of May, nazi-free, #LeaveNoOneBehind!!'
[1] However, I speak from a privileged point of view as a person who is used to freedom of movement, of speech, etc., with little care work, and living in a country with a fairly good health care system.
[2] Butler, Judith (2011): Bodies in Alliance and the Politics of the Street. Lecture held in Venice, 7 September 2011, in the framework of the Series The State of Things, organized by the Office for Contemporary Art Norway (OCA), https://transversal.at/transversal/1011/butler/en.
[3] Marchart, Oliver (2012): Protest, Tanz, Körper – die Passage von Kunst zu Politik. In: Frankfurter Kunstverein (Hrsg.) (2012): Demonstrationen. Vom Werden normativer Ordnungen, Verlag für Moderne Kunst, Nürnberg, S. 100-113.
[4] This does not only include the body as the performative actor who blocks a street, holds a banner, acts collectively, etc. but also the body as the receiver of messages.
​
_________________________________________________
Nora Mariella Küttel is a geographer and urban designer, living in Hamburg.
Her research interests include bottom-up urbanism, urban ethnography, theories on space and place as well as feminist geography.
Currently, she researches and teaches at the University of Münster where she also writes her doctoral thesis on the interactions of visual art and urban space in Detroit, USA.
*Text and images by Nora Mariella Küttel.