Cities & Covid-19 | Dortmund, Germany & Bergamo, Italy by Stefano Cozzolino
Students & researchers share their impressions of urban living during a pandemic | a TAU City Center special project
How is life in cities affected by the spread of coronavirus?
This is a good question as many topics may be raised and discussed.
For example, one might decide to tackle certain technical problems such as the difficulty to deal with social-distancing measures or address certain socioeconomic issues like the impact of restrictions on local businesses and jobs.
Eventually, one might also write about fears and anxiety connected to risks.
Nevertheless, what I learnt from this experience is that the biggest change is not external (and visible) but instead internal. It is about how we perceive and experience reality.
It is from February 24th that I (physically) live in one place, Dortmund, but I'm emotionally connected to another city; my hometown, Bergamo, the city most seriously affected by the spread of coronavirus in the world.
Before the virus, I was used to going back home to Bergamo every three weeks to visit relatives and friends. Like many other people in the world, I used to commute quite a lot and share multiple places.
For me it was natural to have, let's say, two lives, one in Italy and one in Germany.
Well, don't get me wrong, my life is just one but it is between two cities. 
I'm sure many can easily understand what I mean because this kind of lifestyle is becoming very common.
Living in two cities was for me (and for my brain) an easy routine.
Things got more complicated with the spread of the virus and the consequent lock-down of Italy in March because it obliged me to stay in Germany.
The main consequence is that I had to learn how to live not only in two different cities but in totally different psychological worlds.
One based on constant fears and daily tragedies. It has been estimated that 7.000 people died in Bergamo, while the other, Dortmund, is scarcely affected by the virus (overall, "only" 600 cases of infection and a dozen of intensive care treatments).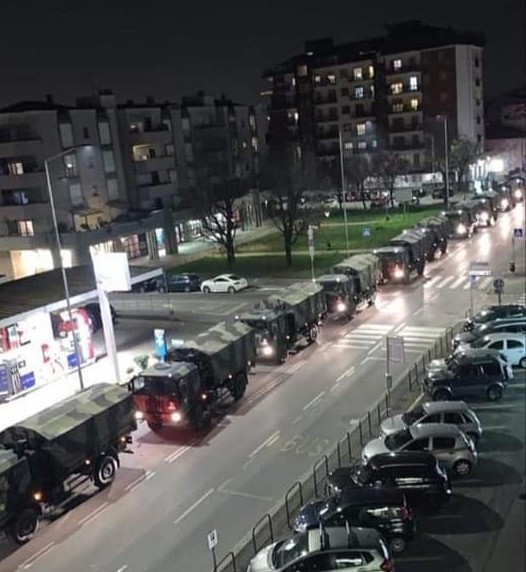 Image 1:  Military trucks queuing before bringing coffins away from the city. March 18th, Bergamo.
One where the local administration was not able to track the number of deaths nor could find places to store and then bury coffins, while in the other, where I live physically, people are protesting against the introduction of certain "minimum" social distancing measures.
Image 2: Anti-corona demonstration. May 9th, Dortmund.
One world, Bergamo, in which the first things you ask people is "how is your family? Are they okay?" or "do you know that Mr. X or Ms. Y passed away?", while in the other people complain because they cannot go to concerts or have a barbecue in a public park.
I know this story is not so much about cities, at least directly. But all this affects the perception of cities to a large extent.
_________________________________________________
Stefano Cozzolino works as Senior Researcher at ILS – Research Institute for Regional and Urban Development and as a lecturer at RWTH Aachen University (Germany). His main research interest focuses on the interplay between planning/design and the evolution of spontaneous social-spatial configurations.
*Text and images by Stefano Cozzolino